Proteomes - Atta cephalotes (Leafcutter ant)
Your basket is currently empty.
Select item(s) and click on "Add to basket" to create your own collection here
(400 entries max)

Overview
Proteome name

Atta cephalotes -

Reference proteome

Proteins

10,634
Proteome IDi
UP000005205

Taxonomy

12957 - Atta cephalotes

Last modified

February 18, 2017
Genome assemblyi
GCA_000143395.2 from EnsemblMetazoa
Genome annotationi
EnsemblMetazoa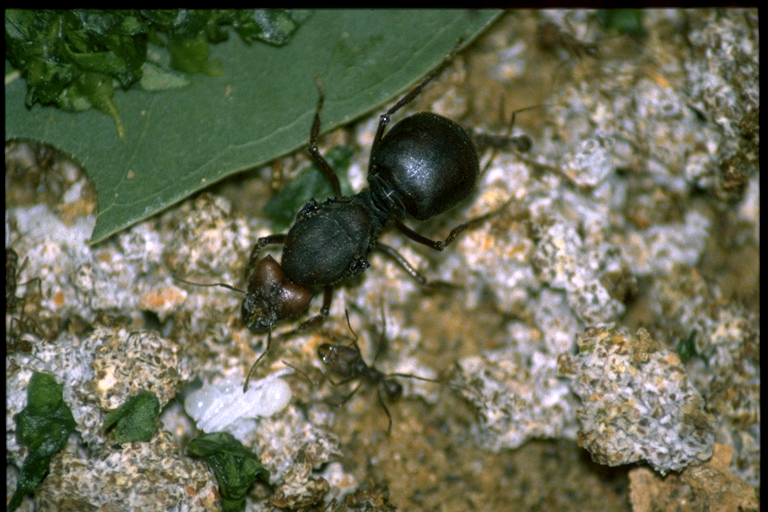 © calphotos.berkeley.edu
Ants (family Formicidae) are extremely successful social insects evolved from wasp-like ancestors, and are found in almost every habitat across the planet. There are over 12,000 known ant species with many more still to be identified. Ants live in colonies which can range in size from 100's to the incalculably large genetically related global mega colony of the Argentine ant.
Large female soldiers guard the nest. Two worker castes are also females known as media, who cut leaves and return them to nest and minima, who chop up the leaves and feed them to the fungus. The sole responsibility of the winged males is to inseminate the queen. The complex social interplay between all the colony members is sometimes described as a superorganism.
The genome for the leaf-cutter ant Atta cephalotes was published in 2011 and reveals insights into its obligate symbiotic lifestyle. Leafcutter ants are dependent on the cultivated fungus for nutrients and genome analysis has confirmed that there is a reduction in genes related to nutrient acquisition. The estimated size of the genome is 300Mb.
Publications
Li L.

,

Marsh S.

,

Grubbs K.

,

Nangle P.

,

Weinstock G.

,

Teiling C.

,

Taylor J.

,

Slater S.

,

Clifton S.

,

Currie C.

,

Gerardo N.

,

Suen G.

,

Warren W.

,

Bouffard P.

,

Minx P.

,

Ye L.

,

Wilson R.K.

Submitted (OCT-2010) to the EMBL/GenBank/DDBJ databases

"The genome sequence of the leaf-cutter ant Atta cephalotes reveals insights into its obligate symbiotic lifestyle."Suen G.

,

Teiling C.

,

Li L.

,

Holt C.

,

Abouheif E.

,

Bornberg-Bauer E.

,

Bouffard P.

,

Caldera E.J.

,

Cash E.

,

Cavanaugh A.

,

Denas O.

,

Elhaik E.

,

Fave M.J.

,

Gadau J.

,

Gibson J.D.

,

Graur D.

,

Grubbs K.J.

,

Hagen D.E.

Currie C.R.PLoS Genet. 2011:e1002007-e1002007(2011)

[

PubMed

] [

Europe PMC

] [

Abstract

]