Proteomes - Rattus norvegicus (Rat)
Your basket is currently empty.
Select item(s) and click on "Add to basket" to create your own collection here
(400 entries max)

Overview
Proteome name

Rattus norvegicus Brown Norway -

Reference proteome

Proteins

29,975
Proteome IDi
UP000002494

Strain

Brown Norway

Taxonomy

10116 - Rattus norvegicus

Last modified

September 3, 2017
Genome assemblyi
GCA_000002265.1 from Ensembl
Genome annotationi
Ensembl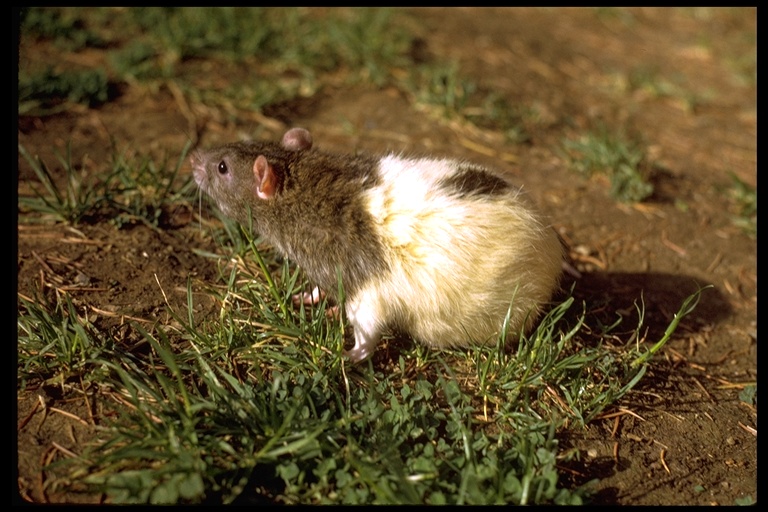 © calphotos.berkeley.edu
Rattus norvegicus (also called the brown rat, Hanover rat, Norwegian rat, Brown Norway rat) is a common rodent closely related to mouse. The species originated in Asia, not Norway as the name suggests, and has spread throughout the world.
The rat is a major pest and a reservoir of pathogens, being involved in the transmission of infectious diseases such as cholera, bubonic plague and typhus. On the other hand, Rattus norvegicus was the first mammalian species to be domesticated for scientific research.
The rat is an indispensable model organism in biomedical research, especially in cardiovascular and psychological research, and in therapeutic efficacy and toxicity studies. It is the third mammalian species to have its genome sequenced.
The reference proteome of Rattus norvegicus is derived from the genome sequence of strain Brown Norway (BN) that was published in 2004. The sequence data were mostly from two inbred female animals of strain BN/SsNHsd/Mcwi. The assembled genome size is 2.75 Gb.
Publications
"The Mitochondrial Genome of Rattus Norvegicus strain Brown Norway."McLeod M.P.

,

Muzny D.M.

,

Metzker M.L.

,

Abramzon S.

,

Adams C.

,

Alder J.

,

Allen C.

,

Allen H.

,

Alsbrooks S.

,

Amin A.

,

Anguiano D.

,

Anyalebechi V.

,

Aoyagi A.

,

Ayodeji M.

,

Baca E.

,

Baden H.

,

Baldwin D.

,

Bandaranaike D.

Gibbs R.A.

Submitted (DEC-2002) to the EMBL/GenBank/DDBJ databases

Submitted (NOV-2002) to the EMBL/GenBank/DDBJ databases

"Genome sequence of the Brown Norway rat yields insights into mammalian evolution."Gibbs R.A.

,

Weinstock G.M.

,

Metzker M.L.

,

Muzny D.M.

,

Sodergren E.J.

,

Scherer S.

,

Scott G.

,

Steffen D.

,

Worley K.C.

,

Burch P.E.

,

Okwuonu G.

,

Hines S.

,

Lewis L.

,

Deramo C.

,

Delgado O.

,

Dugan-Rocha S.

,

Miner G.

,

Morgan M.

Collins F.S.Nature 2004:493-521(2004)

[

PubMed

] [

Europe PMC

] [

Abstract

]