Proteomes - Monodelphis domestica (Gray short-tailed opossum)
Your basket is currently empty.
Select item(s) and click on "Add to basket" to create your own collection here
(400 entries max)

Overview
Proteome name

Monodelphis domestica -

Reference proteome

Proteins

22,243
Proteome IDi
UP000002280

Taxonomy

13616 - Monodelphis domestica

Last modified

March 4, 2017
Genome assemblyi
GCA_000002295.1 from Ensembl
Genome annotationi
Ensembl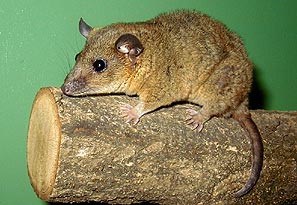 © www.aya.or.jp
There are over 100 species of Opossums (Didelphimorphs) ranging in size from a small mouse to that of a large cat. The gray short-tailed opossum is 12 to 18cm long weighing 60-90g and has gray-brown fur over its body becoming paler as it reaches the legs. It is native to central South America living in rainforests, agricultural land and urban areas, eating mainly small animals such as frogs and reptiles and some fruit. Opossums are marsupials but unusually this species does not have a pouch and the immature young attach to their mother's teat for up to eight weeks. The ease with which their early development can be observed and the fact that they are easily bred makes them ideal for the study of transplants, cancer research and the immune system.
For the Ensembl gene build most of the proteins being aligned were from species genetically distant to the opossum. The genome contains 3.5Gb with 21,327 protein-coding genes and 24,882 transcripts.
Publications
"Genome of the marsupial Monodelphis domestica reveals innovation in non-coding sequences."Mikkelsen T.S.

,

Wakefield M.J.

,

Aken B.

,

Amemiya C.T.

,

Chang J.L.

,

Duke S.

,

Garber M.

,

Gentles A.J.

,

Goodstadt L.

,

Heger A.

,

Jurka J.

,

Kamal M.

,

Mauceli E.

,

Searle S.M.

,

Sharpe T.

,

Baker M.L.

,

Batzer M.A.

,

Benos P.V.

Lindblad-Toh K.Nature 2007:167-177(2007)

[

PubMed

] [

Europe PMC

] [

Abstract

]