Proteomes - Dictyostelium discoideum (Slime mold)
Your basket is currently empty.
Select item(s) and click on "Add to basket" to create your own collection here
(400 entries max)

Overview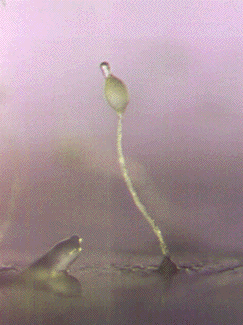 © www.tins.ne.jp
Dictyostelium discoideum, commonly known as slime mold, is a species of soil-living amoeba. It has the remarkable ability to switch from a solitary to a multicellular form. Under certain conditions, such as starvation, individuals aggregate and differentiate to generate a spore-releasing fruiting body. Since it is relatively easy to cultivate and manipulate in the laboratory, D. discoideum is a popular eukaryote model organism for researchers studying basic cellular processes such as chemotaxis, phagocytosis, apoptosis, signal transduction and cell differentiation.
The genome was sequenced in 2005, has a size of 34 Mb, and contains approximately 12,500 protein-coding genes. It has an unusually high repeat number and is also AT-rich (approximately 78%), making sequencing and assembly particularly challenging.
Publications
"The mitochondrial DNA of Dictyostelium discoideum: complete sequence, gene content and genome organization."Ogawa S.

,

Yoshino R.

,

Angata K.

,

Iwamoto M.

,

Pi M.

,

Kuroe K.

,

Matsuo K.

,

Morio T.

,

Urushihara H.

,

Yanagisawa K.

,

Tanaka Y.Mol. Gen. Genet. 2000:514-519(2000)

[

PubMed

] [

Europe PMC

] [

Abstract

]

"Sequence and analysis of chromosome 2 of Dictyostelium discoideum."Gloeckner G.

,

Eichinger L.

,

Szafranski K.

,

Pachebat J.A.

,

Bankier A.T.

,

Dear P.H.

,

Lehmann R.

,

Baumgart C.

,

Parra G.

,

Abril J.F.

,

Guigo R.

,

Kumpf K.

,

Tunggal B.

,

Cox E.C.

,

Quail M.A.

,

Platzer M.

,

Rosenthal A.

,

Noegel A.A.Nature 2002:79-85(2002)

[

PubMed

] [

Europe PMC

] [

Abstract

]

"The genome of the social amoeba Dictyostelium discoideum."Eichinger L.

,

Pachebat J.A.

,

Gloeckner G.

,

Rajandream M.A.

,

Sucgang R.

,

Berriman M.

,

Song J.

,

Olsen R.

,

Szafranski K.

,

Xu Q.

,

Tunggal B.

,

Kummerfeld S.

,

Madera M.

,

Konfortov B.A.

,

Rivero F.

,

Bankier A.T.

,

Lehmann R.

,

Hamlin N.

Kuspa A.Nature 2005:43-57(2005)

[

PubMed

] [

Europe PMC

] [

Abstract

]